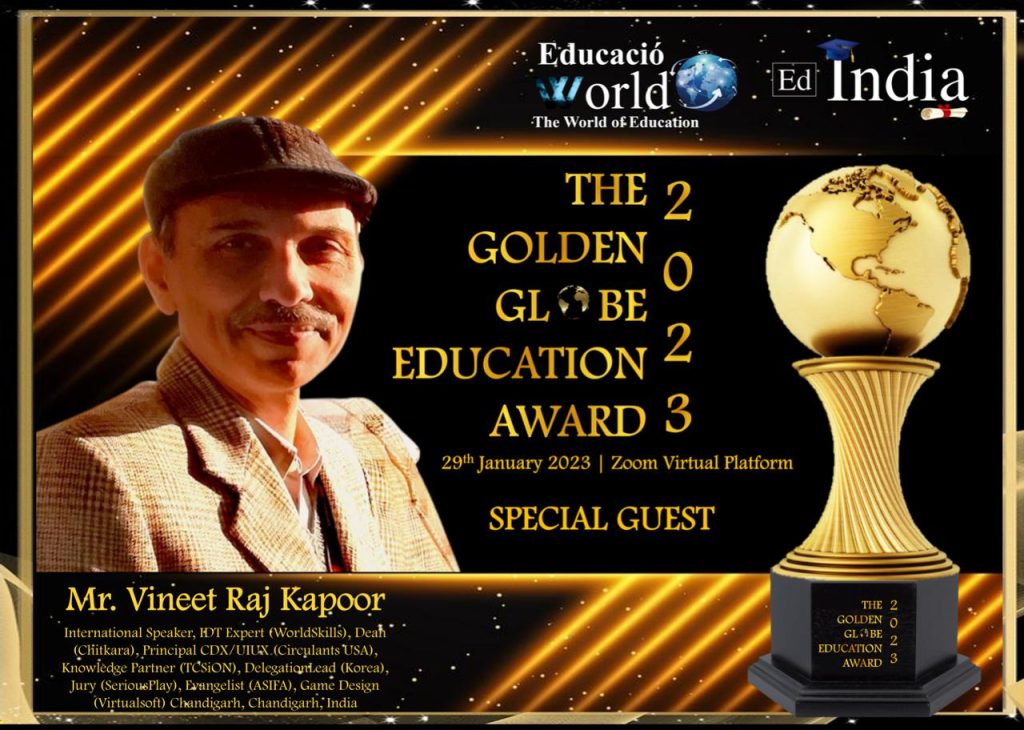 Chandigarh Design School was Awarded Centre of Excellence Award at Golden Globe Education Awards 2023 held on 29 January 2023 by Educacio World. The Event had talks by various Experts from across the world including Greece, UAE, Oman, and India. Vineet Raj Kapoor, Founder SXILL was a Special Guest at the Event and spoke on "The 10 Commandments of The Future of Education" that is currently making waves recently on various social platforms.
Chandigarh Design School Founded by a 26 year legacy in Design Education, backed by tie-ups ensured by SXILL, steps in to fulfill the gap in UXUI learning in India. It also has tie-ups with Colleges and Universities to deliver Industry Quality Education at their campuses. The Award was presented as "Best Innovative School of the Year" to Chandigarh Design School. This Award marks the significance that is being attached by the Prime Minster of India to Skilling. And Chandigarh Design School leads education in Design Skilling in the Country. It is partnering with NSDC to deliver quality education in Animation, 3D Modelling, 2D and 3D Animation and UXUI Design amongst other skills. It is also starting Game Design and Development, as well as Film Making and Acting Courses. For these it has collaborated with world's leading companies, as well as with Mumbai based studios to ensure relevancy of the training.
Prof. Vineet Raj Kapoor, SXILL was also invited by FICCI in March 2022 to represent the Indian Angle to Dubai Expo for the Round Table on "Fostering Skilling ecosystem by exchange of Knowledge, service & resources" Media & Entertainment Skills Council, (MESC), one the pioneer council for skill training for M&E domain, hosted the Industry-Academia round table discussion in association with FICCI on 23rd March at Dubai Expo 2020 in Dubai. He also was the Invited as the International Key Speaker at World Design Organization backed event at Moscow, Russia on World Design Day on 29 June 222. He also featured as a prescreening jury for Smart India Hackathon 2022 (India), Eurasian Future Skills Competition (Russia), and Khabarovsk International Competition (Khabarovsk), BRICS Future Skills Challenge (China). He was a recipient of the Award for Best Design Skill Training Institute at the Indian Education and Edtech Awards recently at Delhi.
Neelu Kapoor, the Founder of SXILL and herself a National Jury (Graphic Design) for NSDC backed Indiaskills said, "SXILL offer a unique 'Design your own Curriculum' option in line with the National Education Policy as well as a World Class Animation and Design Finishing School SXILLUP for Animation and Design pass outs from Colleges. In this endeavor SXILL is backed by top studios like Lakshya Digital, Digitoonz, Greengold (Chhota Bheem), Technicolor, Virtualsoft and more. Our students consistently win International Awards like 11secondclub and GO48!"