SXILL organized an Industrial Visit to Virtualsoft Studio for 300 students of CGC Landran students of BSc (Multimedia), BSc (Graphics and Web Design), BSc (Cyber Security) and BTech (CS –AI).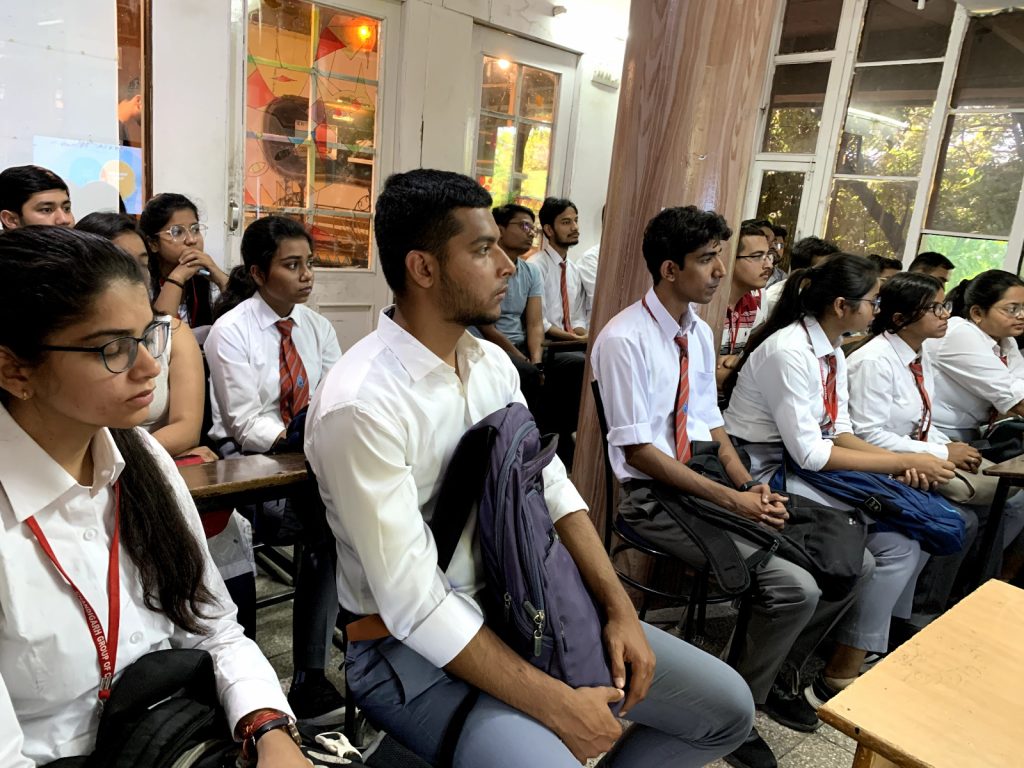 During the Visit to Virtualsoft Studio, the students were exposed to the Animation and UXUI Studio Pipelines besides also being exposed to the required Soft Skills required for Studio Work. Various Studio Staff like Production Head Mr. Mangat Chauhan (Motu Patlu Fame), Creative Director Mr. Parminder Singh, Senior Visual Designer Mr. Bikramjit Singh, and UX Research Expert Mr. Jasjeet Singh walked the students through the processes. Mr. Vineet Raj Kapoor, Studio Head shared his life experiences and guidance with the students, enlightening them about structuring their career and experimenting till they found their ikigai.
Mr. Vineet Raj Kapoor is currently highly involved in the Design and Innovation space as India's nominated Expert for Worldskills competition, amongst other duties. Speaking on the occasion he shared, "Chandigarh Design School training methodology is being backed by the Top Studios of India who are directly involved in guiding students on an individual basis every semester. Every semester is a vertical and there is a vertical partner studio of national stature reviewing students work and recommending improvements. This methodology totally eliminates the need of a separate placement activity for the top students. We are also open to helping out our competitors and peers implement this methodology at their Universities and Institutions. Our students have worked at the Top in leading organizations including Ericson, Sony, Yatra.com, Gaana.com as well as Directed top animated shows like 'Motu Patlu' and even independent artists like Sukh-E the singer amongst others. Our alumnus own leading IT companies in the region like Intelligaia, Trabug, Creative Peppers etc."
Our Founder was also invited by FICCI in March 2022 to represent the Indian Angle to Dubai Expo for the Round Table on "Fostering Skilling ecosystem by exchange of Knowledge, service & resources" Media & Entertainment Skills Council, (MESC), one the pioneer council for skill training for M&E domain, hosted the Industry-Academia round table discussion in association with FICCI on 23rd March at Dubai Expo 2020 in Dubai. He also was the Invited as the International Key Speaker at World Design Organization backed event at Moscow, Russia on World Design Day on 29 June 222. He also featured as a prescreening jury for Smart India Hackathon 2022 (India), Eurasian Future Skills Competition (Russia), and Khabarovsk International Competition (Khabarovsk), BRICS Future Skills Challenge (China). He was a recipient of the Award for Best Design Skill Training Institute at the Indian Education and Edtech Awards recently at Delhi, and later also received the Golden Globe Education Award by Educacio.
Neelu Kapoor, the Founder of SXILL and herself a National Jury (Graphic Design) for NSDC backed Indiaskills said, "SXILL offer a unique 'Design your own Curriculum' option in line with the National Education Policy as well as a World Class Animation and Design Finishing School SXILUP for Animation and Design passouts from Colleges. In this endeavor SXILL is backed by top studios like Lakshya Digital, Digitoonz, Greengold (Chhota Bheem), Technicolor, and more. Our students consistently win International Awards like 11secondclub and GO48!"